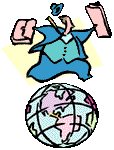 The world has integrated into one single net,
In none other than the internet.
So let your name be known internationally,
Launch your website through us and be known globally.
We offer the following services
1. Web site hosting and domain name registration.
2. Web Content management.
3. Artwork and Design
4. Web Promotion
5. Web Site Maintenance - includes updatation every 6 months, monitoring traffic, actively promoting site, collecting response.
[ Home ] [ About Ambe] [ Contact Us ] [ Submit Resume ] [ Business Opportunities ]